cg_drawRespawnTimer 1 will enable the display of the item respawn timers, if the server setting g_allowRespawnTimer is set to 1.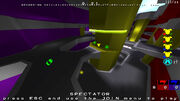 Respawn timers are only visible for spectators and shows the remaining respawn time of armor, mega health and powerups ( in seconds), which are avaible on the current played map. Spawned items (which are available to pickup) are shown without a number. Respawn timers shows in CTF the team side red / blue.
Ad blocker interference detected!
Wikia is a free-to-use site that makes money from advertising. We have a modified experience for viewers using ad blockers

Wikia is not accessible if you've made further modifications. Remove the custom ad blocker rule(s) and the page will load as expected.